Although dog food does not come in as many shapes, colors, sizes, and flavors as human food, there are still quite a few varieties to choose from. Whichever type you choose, the most important factor in your decision should be to find a food that meets all of your dog's nutritional needs.
There are five main types of dog food
#1: Coarse Ground/Dry
Dry food is the most economical type of commercial dog food, which is why many owners choose dry food for their dogs. It also keeps for a long time and does not need to be refrigerated. Dry food also helps keep your dog's teeth healthy, as chewing crunchy dry food helps reduce tartar buildup. When choosing a specific dry food, read the ingredients carefully and choose a brand that has healthy food as its main ingredient.
Pet food production line is assigned to pet food with innovative shapes, unique taste and color, and to scientific nutrition proportion and easy to digest and other features to adapt to the constantly evolving pet food market. Taste of varied shapes and meet the needs of all kinds of pet food. Pet food production line by mixing powder, double screw extruder, air machine, drying, and seasoning line composition.
#2: Canned food
Most dogs prefer canned or wet food. It has a long shelf life and is easy to find in any supermarket, but it can be expensive. For some owners, it's definitely worth it, but not every brand of commercially canned food will provide the protein your pup needs. The real question is how much digestible protein it provides. hard-to-digest protein will pass through your dog's system without being broken down into absorbable nutrients, so it will be virtually useless to him.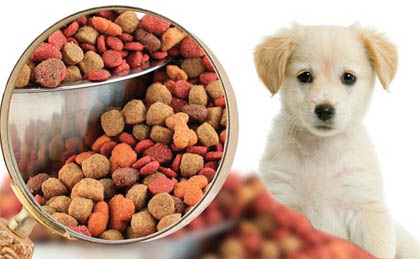 Pet Food
In addition, most canned foods are about 75% water. The higher the water content, the lower the nutrient content, so the more food your dog must consume to get the nutritional value his body needs. If you decide to feed your dog canned food, it is best to choose a food that is labeled "100% Nutrient Complete".
#3: Semi-moist
Commercial dog foods that are shaped like pork chops, burgers, or other meat foods are called semi-moist foods. These foods are the least nutritious of all dog foods and contain many artificial flavors and colors. They can be given to your dog as an occasional treat, but they should not be considered a diet in and of themselves, as they do not provide the nutrition your puppy needs.
#4: Home-cooked meals
Some dog owners value the ability to have complete control over their dog's diet. A home-cooked diet allows the owner to know exactly what is in everything her dog eats and to be absolutely certain that his nutritional needs are being met. Feeding your dog on a home-cooked diet can be time-consuming and expensive, but many owners feel the extra effort is worth the peace of mind they gain. If you decide to feed your dog a home-cooked meal, familiarize yourself with canine nutrition so you can be sure your dog isn't missing out on any important nutrients.
#5: Raw
A raw diet consists of raw meat, preferably some bones (never cooked bones, only raw), and a mix of organs, as bones are a natural source of phosphorus and calcium. This diet works well for many dogs because of their short intestines and strong stomach acids, both of which make it easier for them to eat and digest raw foods. Before converting your dog to a raw diet, discuss the benefits and risks with your veterinarian.
As a professional manufacturer of puffed food equipment, SENA has been committed to the development and production of extruded and puffed food technology and equipment in recent years. According to customers' requirements, the company can provide customers with customized solutions in line with the actual production, and realize the turnkey project of puffed food production equipment. Learn more about the pet food manufacturing process, welcome to contact us today or request a quote.