With the rapid development of the aquaculture industry, its economic benefits have become considerable, so a variety of aquatic feed, especially floating fish feed pellets came into being. Because of the small intestine and poor digestion and absorption ability of fish and shrimp and other aquatic animals, the production process requirements of aquatic feed are much higher than those of livestock and poultry feed, so it is very important to choose the right fish feed machine to produce aquatic feed.

Before choosing a fish feed production machine, it is necessary to understand the characteristics of aquatic feed.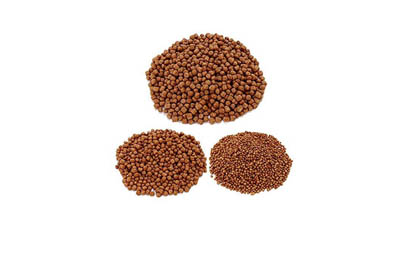 Floating Fish Feed

1. Small particle size.
Due to the short gut and other physiological characteristics of aquatic animals, in order to speed up digestion and absorption, the fineness of the crushed aquatic feed should be smaller than that of poultry feed. For example, in the production of fish feed or shrimp feed, the particle size of raw material powder should reach 60-120 mesh, so as to ensure the production of high-quality fish feed pellets.
For this reason, hammer mills/grinders are very important to ensure the production of very fine flour materials. Our machines and systems can produce fish feed with high precision. The size, shape, and moisture content of the products meet your requirements.
Such as starch, meat, fish and shrimp, etc. Quality animal food must be healthy, tasty, and attractive to the animal and its owner. Our extrusion solutions cover everything from raw materials to packaging, significantly reducing production costs and achieving the desired stable quality.
2. High protein content and low carbohydrate content.
The protein content of livestock feed is often less than 20%, while the protein content of the aquatic feed is always above 30% -40, especially the fast-growing small fish feed, some aquatic feed protein content up to 65% -70%.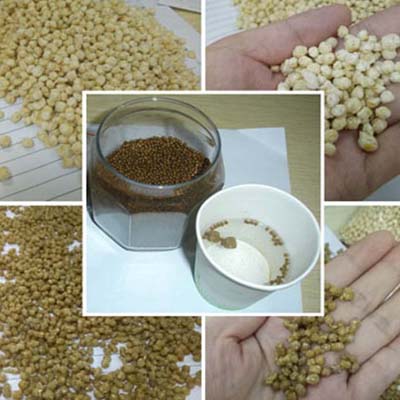 Floating Fish Feed
With this, we should choose a good feed formula and use a flour mixer to mix the different ingredients together. It is one of the key equipment, and its performance directly affects the productivity and product quality of the feed mill.
Recommended: Economic fish feed mixer. Widely used in the uniform mixing of fish feed raw materials to ensure the quality of pelleting.
3. Pellet feed compact structure, with high adhesion and water resistance.
For example, aquatic feeds require pellets with water stability of 2-10 hours or more.
Since fish feed production requires a high degree of pasting and water stability, the choice of fish feed puffing machine is very important. By extending the material tempering time and starch pasting at high temperature, it can enhance the adhesion of feed pellets and kill a variety of harmful bacteria such as Salmonella, which improves both the water stability of fish feed and the palatability and digestibility of the feed.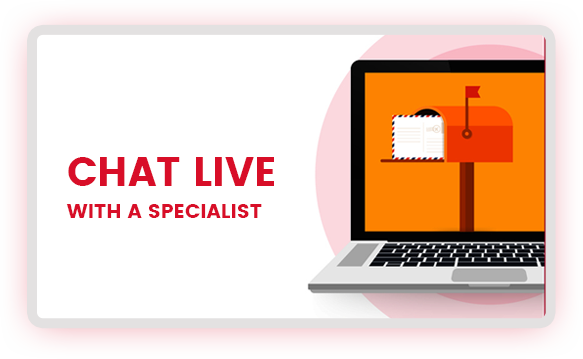 We are In the leading position of the industry in blending, extrusion, drying, mature product line configuration, and service to bring a wealth of expertise and experience to the market. Customers benefit from the process, technology, systems, and service departments. They provide ultimate support for the design, manufacture, and implementation of ideal systems from idea to product for the customer's core needs. These departments are made up of engineers, food technologists, development technicians, and professionals from various departments. We also provide services, maintenance, repair, automation, technical support, and training. Cooperate with us to provide you with a solution that meets every process.
Our company has floating fish feed production line for sale, welcome to consult!