Corn Flakes

Corn flakes are made from corn. Corn flakes are a breakfast food invented in the United States by John Harvey Kellogg. They are a breakfast cereal made from corn, usually served hot or cold, and as an ingredient in other breakfast foods. They can also be eaten raw and whole straight from the box.
How to make corn flakes from maize?
Making corn flakes is a great way to use your leftover maize or a fun way for the whole family to make some food. These simple and easy steps will show you how to make corn flakes from maize.
1. Start with maize, and be sure to buy organic if you want the healthiest option.
2. Soak the kernels in water for at least 6 hours.
3. Boil the maize until soft, around 30 minutes or so.
4. Drain the water and pass it through an acidic additive (such as lime).
5. Run it through a mill to get rid of large chunks and keep only the softest pieces.

Corn Flakes Production Line
6. Dry out the broken-down maize into flour or starch.
7. Mix it with water again in equal parts and put it into a press to get the starch out of the powder (you can skip this step if you don't feel like pressing).
8. Add some sugar, honey, or another sweetener of your choice for flavor, but you can also leave it unflavored if you prefer that over anything.
9. Put this new mixture back into a press to make flakes form out of it.
10. Finally, the product is formed into flakes of different shapes and sizes depending on the varietal of the maize and the thickness of the flakes.
Corn flakes production line is also called breakfast cereal corn flakes production line, corn flake /breakfast cereal is one kind of crispy food, with the advantages of hard to be steeped broken and strong grain taste. It is a crispy flake that is made from cornmeal and other grains powder. The production line includes mixing, extruding, flaking, drying, high-temperature baking, flavoring, and cooling. It can be eaten like a snack, and be eaten with milk or coffee as well. By changing molds and the production process, this production line can make different shapes of puffed food. Such as ring, ball, flake, star, letter, etc.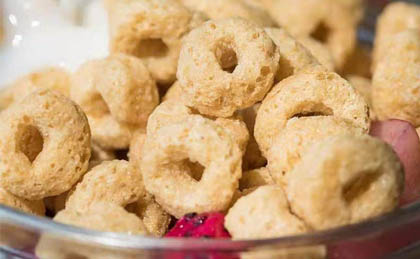 Breakfast Cereals
How to prepare corn flakes?
Follow the instructions below to bring about superior taste and ease of preparation.
Ingredients
6-8 Medium Sized Corn Flakes
5 Tablespoon Milk
1 Tablespoon Sugar
Preparation
1. Take a bowl and add the cornflakes
2. Take the sugar and milk and mix
3. Pour the mixture over the cornflakes and stir with a spoon or your hands
4. Serve immediately; feel free to add fruit or nuts

Breakfast Cereals
How to make cornflake chicken?
A quick and easy way to make a crispy chicken dish is to add corn flakes to the chicken while it is cooking. The corn flakes become extra crispy and make the chicken moist and flavorful due to the slightly sweet flavor of the corn flakes themselves.
You will need 2-3 servings of chicken, corn flakes - about half a package, eggs - 1 per serving (1 large serving will work for two), salt, and pepper.
Instructions.
1. Cut the chicken into 10-12 pieces.
2. Next, you must prepare the soufflé. The paste must be rolled out thinly with a rolling pin.
3. Heat the olive oil on medium heat.
4. Coat the chicken with tortilla chips and fry in the pan for about 5 minutes or until golden brown or cooked through.
5. Serve as desired
Find a Professional Breakfast Cereal Corn Flake Processing Line Supplier
As a professional extruded food equipment manufacturer, SENA Machinery has become a production-study-research integrated supplier of extruded food solutions. According to customer requirements, we can provide customers with customized solutions in line with their actual production, and realize the turnkey project of puffed food production equipment. The extrusion and puffing system is widely used in puffing snack food, breakfast cereal cornflake food, plant protein meat food, nutritious rice, whole grain nutrition powder, modified starch…
For more information on SENA Machinery Technology's corn flakes production line, please visit our website at https://www.senamachinery.com.