Breakfast Cereals
Cornflakes are one of the most popular breakfast foods in the world and for good reason. They are easily accessible, convenient, ready to eat and filling. Some people eat cornflakes for breakfast every day. They can be eaten with milk and also with fresh fruit, dried fruit, or nuts. They are easy to digest.

Breakfast is arguably the most important meal of the day. There is some debate as to whether it should be the heaviest or lightest meal of the day, but almost all health experts seem to agree on one thing - you should never skip breakfast. It is one of the first rules of keeping fit and one that you must always follow, especially if you are trying to lose weight. Eating a healthy breakfast is important for regulating blood sugar levels and preventing overeating at lunchtime, as well as maintaining energy levels. However, eating a good quality breakfast is just as important as skipping it, which may be a little harder than you think.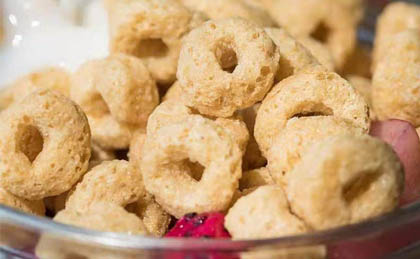 Breakfast Cereals
People are always looking for breakfast foods that are both nutritious and convenient. Experts are working with food processing professionals to develop new solutions to produce more ready-to-eat breakfast cereals.
Corn flakes production line is also called breakfast cereal corn flakes production line, corn flake /breakfast cereal is one kind of crispy food, with the advantages of hard to be steeped broken and strong grain taste. It is a crispy flake that is made from cornmeal and other grains powder. The production line includes mixing, extruding, flaking, drying, high-temperature baking, flavoring, and cooling. It can be eaten like a snack, and be eaten with milk or coffee as well. By changing molds and the production process, this production line can make different shapes of puffed food. Such as ring, ball, flake, star, letter, etc.
Breakfast cereals
From straightforward puffed breakfast cereals to mixed cereals and cornflakes, we help you efficiently produce multi-colored products in one process. Our special shape and cutting process allows you to create a large variety of shapes and forms.

Corn Flakes Production Line
Our breakfast cereal production systems offer you flexibility, efficiency, longevity, and optimized energy use. Adjustable levels of automation up to fully automatic production ensure a high level of operational reliability and optimum production control. All our process steps meet the highest standards of food safety. We operate worldwide and offer fast service and spare parts on all continents.
Find a Professional Breakfast Cereal Corn Flake Processing Line Supplier
As a professional extruded food equipment manufacturer, SENA Machinery has become a production-study-research integrated supplier of extruded food solutions.
According to customer requirements, we can provide customers with customized solutions in line with their actual production, and realize the turnkey project of puffed food production equipment. The extrusion and puffing system is widely used in puffing snack food, breakfast cereal cornflake food, plant protein meat food, nutritious rice, whole grain nutrition powder, modified starch…
For more information on SENA Machinery Technology's corn flakes production line, please visit our website at https://www.senamachinery.com.