The main raw materials are corn flour, corn starch, rice flour and other starches, which are extruded and expanded into triangular, circular, square, animal and other shapes, and then baked and seasoned. Its taste is crisp, nutritious, and easy to digest. It is loved by people of different ages at home and abroad. After forming, the residual material can be recycled after crushing, thus greatly reducing the production cost.
The food produced by puffed food equipment has crisp taste, oil and no greasy, after eating, leaving fragrance, promoting the digestive characteristics of the intestines, making the wide consumer after dinner, the food is easy to learn and easy to understand. The operation function, product quality, and skill-mouth sense of the extruded food production equipment have reached the first level in the same industry.

Puffed Food
With the advanced co-extrusion technology, two kinds of products of different texture and tastes are extruded on the twin screw mainframe, and all kinds of puffed and sandwiched foods, such as wheat fragrant chicken block, sandwich rice crisp, rice fruit, etc. are produced in the market, and the mould and auxiliary equipment can also be changed to produce camping powder, cereal porridge and various shapes. Snacks. The automatic production line is at the domestic level because of its wide range of raw materials, convenient operation and maintenance, low energy consumption and high output.
Extruded leisure food production line is automatic processing equipment for leisure food based on absorbing advanced extrusion technology from abroad. Its technical performance and quality have reached the advanced level of similar equipment in the world. The production line is made up of ingredients, extrusion, molding, drying and flavoring.

Corn Filled Puffs Food Production Line
How do they make puffed corn snacks?
flow chart: mixer → screw conveyor → screw extruder → shaping machine → elevator → oven → seasoning line → packaging machine
Extruded maize snacks are manufactured through extruding moistened maize meals under high pressure and temperature conditions. The puffed product is then fried and usually coated with a savory flavour such as cheese, chili, barbeque sauce, sour cream, or onion. The flavoring agent is applied in powder form.
Technologies and Equipment in Processing Snack Foods
Corn puff snacks production line manufacture of extruded snacks, cereals, and inclusions. Partnering with our customers and suppliers, we are able to develop extruded items in a variety of shapes and flavors.
Small-pillows
Extruded Filled Pillow Puffs
A crisp shell hides the soft filling within; these pillows are intense! The flavor combinations of shell and filling are endless and can range from cheese to chocolate, savory to sweet.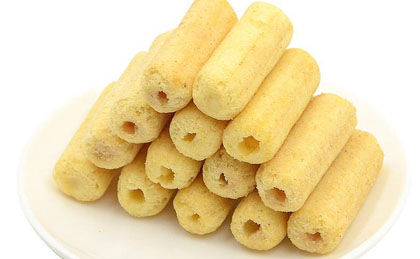 Puffed Food
Extruded Crispy Chips
Our versatile process can make chips in a variety of textures, flavors and shapes. From a tortilla-style massa triangle to a wasabi rice crisp, this chip is fully customizable.
Small sticks
Extruded Snack Sticks
Made with real potatoes, these sticks are like french fries that are great for snacking anytime. Just don't limit this concept to french fries; think sweet potato, carrot or even purple corn sticks.
Small rounds
Extruded Other Puffed Shapes
Balls, curls, bubbles, tubes, bananas, cups, disks, stars and more, we want to make your next big idea a reality.
SENA has become a production-study-research integrated supplier of puffed food solutions. If you want to get more information about the food production line, welcome to contact us today or request a quote.