Puffed Food
According to an industry survey, most food manufacturing companies are looking to increase production. However, the same study shows that automation does not provide enough flexibility to meet the increase in production. Here, food line suppliers explain how food production lines can be made more flexible through modularity.
Automation is one area of interest to drive increased production. As with all forms of automation and robotics, the technology is being implemented in factories to improve efficiency and production speed.
Today's food producers need flexibility and speed. Retailers and consumers are challenging food manufacturers to become more agile and produce a wider range of products.
Modularisation
As a production method, modularity allows manufacturers to assemble hardware in their factories by combining individual modules into the desired sequence. As the name suggests, production lines are broken down into modules, eliminating the traditional rigid format of production lines and allowing manufacturers to modify their format as they see fit.
Typically, a factory's production line consists of individual production cells, each with a specific function in the process - distribution, testing, processing, handling, assembly, and storage. Modular production allows the factory to break these units down into individually operating modules, thus providing greater flexibility to reformat these modules. Like building blocks, an entirely new production line can be created.

Corn Filled Puffs Food Production Line
Take the production of baked goods as an example. By dividing the plant's operating hours into different production batches, a food manufacturer can produce many different types of products without having to make major changes to the facility. For example, connecting a production unit designed to dispense chocolate coating would allow the plant to produce both chocolate-coated and regular versions of the same biscuit. Simply removing the dispensing module from the line means that the rest of the line does not need to be reprogrammed and the plant does not need to be manually adjusted between each production batch.
Although the biscuit example is a very simple case study, it demonstrates how modularity allows manufacturers to change the application of hardware to increase production flexibility.
Salty or sweet snacks with fillings are a requiring change that meets the needs of young consumers because they combine two ingredients of puffed cracker with a crispy crust and soft filling. The filling provides the main flavor and sense of the product, complemented by a biscuit flavor. We can provide customers with a full range of support and services, our lab workshop can create, test, and simulate innovative filling snack experiments for you, successfully transform a small batch of experiments into a large-scale batch of production, and turn good ideas into profitable products.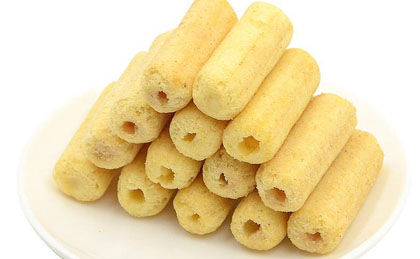 Puffed Food
Innovation
Modules can be used to create smaller versions of the production line, allowing manufacturers to build in their minds what mass production might look like. For example, if a food manufacturer wants to start producing a completely new product, it is best to start with a test batch. This also helps to demonstrate how production can be scaled up, while accurately determining time-to-market estimates.
This testing process also provides the opportunity to learn from the data generated. For example, calculating how many operators are required for production and identifying opportunities to improve manufacturing efficiency, and calculating a process capability index (CpK) value.
The modular approach allows food processors to add, remove or replace hardware in the production line with little disruption. In the food manufacturing industry, processes must be reliable, repeatable, and error-free, and able to adapt and rapidly increase throughput when necessary.
The market and its changing needs are evolving faster than ever before and food manufacturers must keep up with the times. This is why obtaining food line machinery through suppliers such as SENA Machinery can support food manufacturers in their efforts for modular production equipment.
SENA has become a production-study-research integrated supplier of puffed food solutions. If you want to get more information about the food production line, welcome to contact us today or request a quote.