Extrusion is one of the most important new processes in modern food technology; its application has increased in the last two decades. Extrusion is an advantageous, cleaner, and more efficient technology that can produce the same or even better products than those of traditional technologies. The process has been used to produce a wide variety of foods, including snack foods, breakfast cereals, and other ready-to-eat textured foods.
Snack foods are tasty and affordable products with a wide variety that are popular with consumers of all ages. Puffed corn snacks are found in the snack category and are made with corn grits, rice, wheat or other grains, often flavored with cheese, oil, chili, onion or garlic powder and many other spices.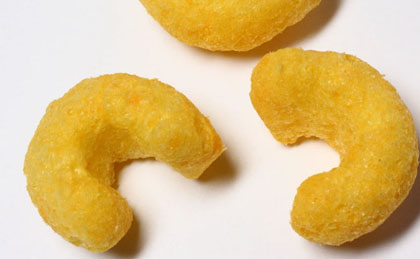 Corn Puff Snacks Food
Puffed corn snacks are a delicious and reasonably priced cereal with relatively poor nutritional quality. Sesame seeds are a rich source of essential amino acids and fatty acids, phenolic compounds, tocopherols and antioxidants. In this study, puffed corn snacks were made by adding 0% (control sample), 5%, 10% and 15% sesame flour to their formulations and stored at room temperature (24°C) for 60 days. The fatty acid composition, tocopherols, sesamin and sesamin, phenolic compounds, peroxide value (PV), acidity (AV) and sensory evaluation of the samples were determined.
The results showed an increase in oleic acid content and a significant decrease in palmitic acid content (p < .05) in all samples at 10% and 15% inclusions levels. Phenolic compounds, γ-tocopherol, sesamin and sesamin were significantly increased in all formulated samples.
PV results indicated that the formulated samples had higher stability with increasing percentage of sesame powder, while AV values showed a significant increase during storage. The inclusion of 10% sesame powder in the snack formulation had a positive effect on the stability, sensory and nutritional quality of the product. This approach can be used to modify the nutritional quality of this food product and introduce it into the food market as a relatively healthy snack.
Enrichment of puffed corn snacks with sesame seed powder is an alternative to improve their nutritional effects and transform puffed corn snacks into potentially functional foods. The addition of sesame flour resulted in a significant increase (p < .05) in the levels of phenolic compounds, tocopherols, sesamin and sesamin in the formulated products.
Physicochemical evaluation of the samples indicated that the use of sesame flour in the formulation of puffed corn snacks resulted in increased oxidative stability of the samples during storage. In addition, sensory evaluation showed that samples containing 5%-10% sesame flour were more acceptable in taste tests. In conclusion, the obtained results suggest that sesame flour can be added to the formulation of puffed corn snacks and bring a new food product to the market.
Corn puff snacks food machine is a new type of extruding food machine, which is studied and developed by ourselves on basic of learning advanced technology in the world so that its technical performance and quality of products both reach to the most advanced in the world.
This line will finish mixing, extruding, drying, sugar coating and packing fully automatically. This line is featured of flexible collocation, extensive applied materials, various products and easy operation.
If you want to get more information about the best corn puff snacks food machine, welcome to contact us today or request a quote.